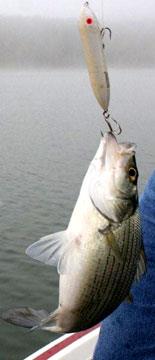 You could say that we heard opportunity knocking, or maybe, I should say schooling. The first cast into the group of schooling bass resulted in a keeper spotted bass. The next 100-plus casts resulted in white bass. An entire cove was alive with white bass smashing shad everywhere.
The real purpose of the guide trip was to locate and catch quality largemouth, smallmouth or spotted bass on Table Rock Lake for photos. The morning had gone almost as planned with a number of bass cooperating, however, we were still in pursuit of that big bass to complete our day when the schooling fish appeared. Professional angler and Table Rock fishing guide Pete Wenners' 20 years of experience on the lake told him exactly what species of bass was schooling so voraciously. "Can you believe how many there are coming up in this cove?" he said. "It's unbelievable!"
By this time the white bass had surrounded our boat, thrashing and busting shad everywhere. At that point we saw the mother load — it looked like a school of piranhas thrashing the entire area of the cove. Within minutes there were four boats all clustered around, casting and catching white bass.
Wenners still had on the Heddon Zara Spook he'd been using on largemouth, smallmouth and spots, and while he was getting strikes, the 4½-inch topwater lure was just too much of a mouthful for the white bass. Quickly Wenners switched to a 3½-inch Heddon Super Spook Jr. in a shad pattern, and immediately started catching them on almost every cast. Lucky for me, Wenners had given me a Heddon Super Spook Jr. in silver mullet to fish with, so I was already hauling them in left and right. It was what tipped him off that his bait was just too big.
"The key today for catching these whites was the size of the bait we were casting," Wenners said. "They really wanted a smaller profile bait."
To prove his point, Wenners put on a small popper about the same size as the Heddon Super Spook Jr. and continued to catch fish.
"Do we stay and catch some more or go catch a photo fish?" Wenners asked. It was a difficult decision. We had already caught a ton of whites; so many, we had lost count including numerous doubles. To make the decision even harder, the whites showed no sign of slowing their feeding frenzy. It's hard to leave schooling white bass. They have a big appetite and can be caught on a wide variety of lures. We decide to leave, but only after catching a couple more. We needed that photo of a big bass. Before we departed, I quickly snap a couple photos of Wenners fighting and landing some of the schooling white bass. After fishing for a couple more hours, we ran out of time to catch a big bass. Apparently we had too much fun catching schooling white bass on topwater baits and had stayed to long. In the end, the white bass turned out to be our "photo fish."
Anglers interested in booking a guided fishing trip with professional fishing guide Pete Wenners on Table Rock Lake or Lake Tanycomo in Branson, Missouri, can contact him at www.hookedonbass.com or call (888) 214-1767.
Brad Wiegmann is a Beaver Lake fishing guide and outdoor writer. You can learn more about Brad at www.bradwiegmann.com.